As a mentoring and fine-tuning consultant working solely with clubs in both regional areas and city locations, I see a vast array of clubs. I work with small bowling clubs with only a few chefs in the kitchen, and also large establishments with many chefs and outlets.
The one thing that is common across all, is the current challenge with staffing the catering departments effectively.
Gone are the days when chefs had enough time to attend to all the compliance tasks, lead their teams and cook. Everything is a struggle and a rush, with a plethora of shortcuts being taken.
More and more digital solutions are being introduced, but this is often met with initial resistance from an already stressed kitchen team. They often push back mostly due to a fear of the unknown and the lack of a desire to try anything new, all very natural human emotions.
Sometimes this pushback stops the rollout dead in its tracks, and nothing changes in the venue. The same problems stay and continue to be areas of concern!
On the other hand, when digital systems are introduced, control is obtained, verification is finally achieved, and many issues can be fine-tuned.
Fridge monitoring systems remove the need for chefs to write down daily temperatures on clipboards, often these are missed or simply ignored. Rarely does anyone check the activity occurred anyway.
Modern systems have 24/7 read-out of temperatures and can be used to double-check chilling of hot food procedures and record delivery temperatures.
Adding in form builders to verify cleaning activities for each area, these can then be allocated to staff who can complete digital forms on their mobile phones.
All of this can be monitored on a desktop with a live dashboard for clarity on what has occurred.
Table ordering can eliminate the unseemly queues. Customers hate queuing to order then also being told to wait to get their food. Customers will only happily queue once!
Many systems will meld seamlessly into the current systems in operation.
By also using "bump" screens, both the kitchen and FOH have access to live timing metrics.
With geolocators, customers can sit where they want and if they move tables, the waitstaff can easily find them still.
Recipes and costings tied to live invoice pricing ensures menu pricing stays profitable in a rapidly changing climate at present.
The Australasian Gaming Expo on August 9-1 at ICC Sydney is the perfect opportunity to discover these digital solutions.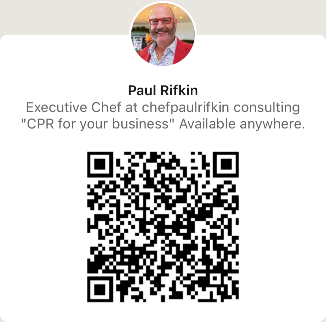 Consider seeking the professional advice of an expert.
Paul Rifkin
chefpaulrifkin consulting
Head Chef Mentoring and Fine Tuning Specialist for Club Catering