EXCLUSIVE

The main infrastructure of the new Sydney Swans Football Club's $70m HQ in the historic Royal Hall of Industries is now complete with work on the interior fitout going full steam ahead for a November completion.
Club Management was taken on an exclusive tour of the Moore Park facility with fellow Swans Ambassadors – including presenter Deborah Hutton, journalist Jenny Brockie and politician Meredith Burgmann – by former Sydney Swans 256-game veteran Heath "Reg" Grundy, who is now a contracts administrator with project manager FDC.
The impressive complex in the 1913 red-brick building with soaring 12m ceilings will feature plunge pools, gym, change and shower rooms and indoor training facilities on a 40x60m artificial turf surface for the AFL, AFLW and Swans Academy teams. There will also be meeting rooms, media room, offices for coaches, doctors and physios and administration, plus a cafe, Swans' museum and lounge which will be open to all. The plans include a creche, player lounge with full kitchen and prayer/contemplation rooms built into the existing turrets.
"We think it will probably be the best facility in the league," says Grundy who retired in 2019 and admits to being jealous of the new facility.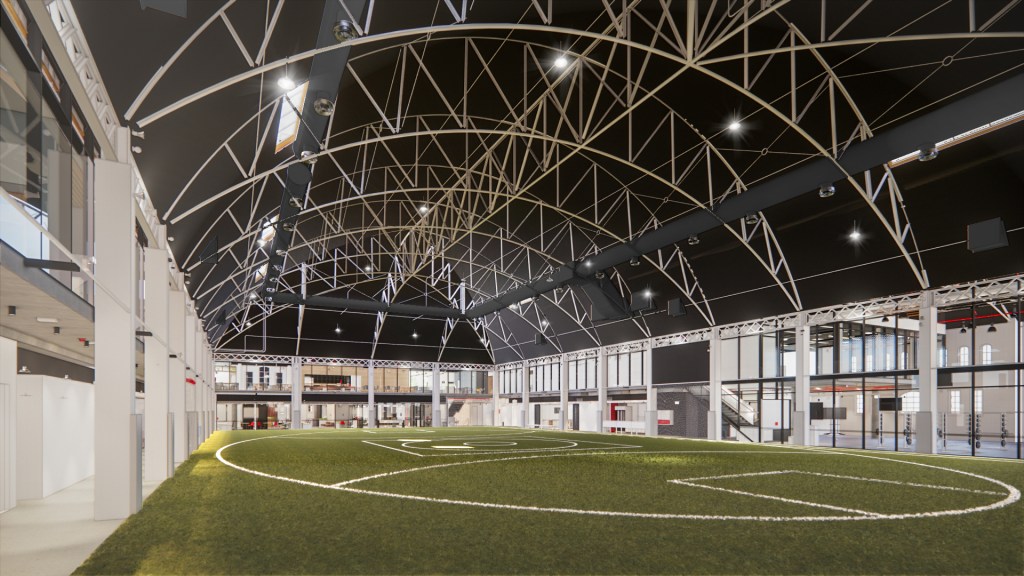 In addition, a 20m lap pool has been constructed alongside the former Showbag Pavilion as has a new basketball/netball court with rumours both the Swifts and Kings are interested in using the courts as a training space. 
The entire complex stretches out over 10,000sqm, in contrast to the club's existing 2000sqm facility and office space inside the SCG.
The new HQ will also house Swans community partners GO Foundation, the Clontarf Foundation and Lifeblood.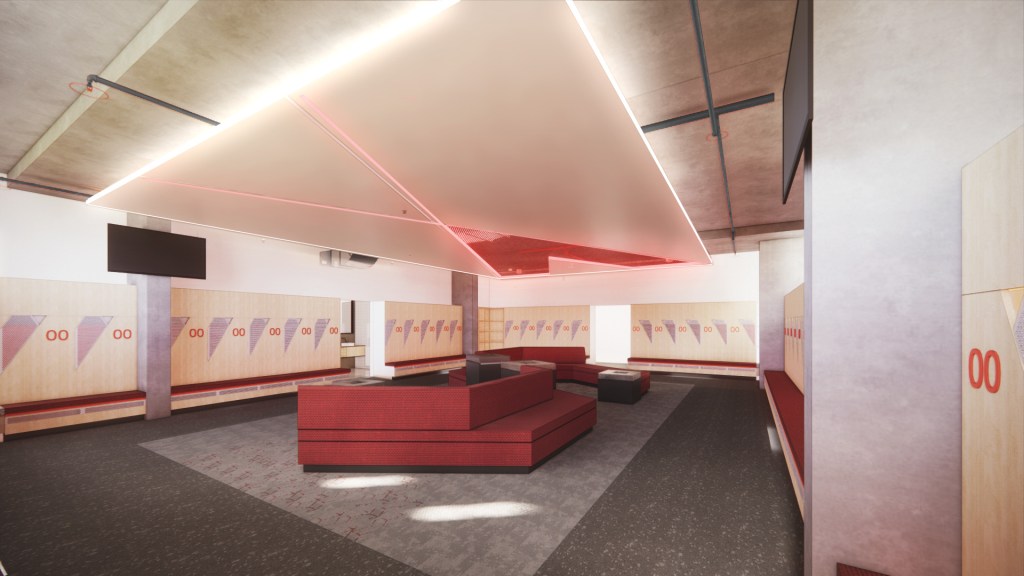 Sydney Swans CEO Tom Harley said it's the biggest project the club has undertaken since moving to Sydney.
"Our new Sydney Swans HQ at the Royal Hall of Industries will provide a world-class training facility for our men's team, our women's team and our QBE Sydney Swans Academy – one club under one roof.
"Importantly, this will be a place where we can welcome our members before and after games, to buy a guernsey, or to visit the museum.
"Our new home will be shared with key community partners including the GO Foundation, the Clontarf Foundation and Lifeblood. It will also enable us to deliver new community programs, which is something we are really looking forward to bringing to life.
"While the build is coming along well, we're yet to reach our fundraising target. There are plenty of ways to support the project, so to find out more people should visit the Sydney Swans Foundation website or get in touch with the club."
The build is expected to be complete by November with a Grand Opening slated for April 2023.  Watch the video here.
Editor Grant Jones is a 23-year member and official Ambassador of the Sydney Swans.