Having once worked for Perfect Plate ambassador Matt Moran, Ballina RSL Club Head Chef Jeremie Messager has decided to hero local produce in his choice of Prawn Laksa as his entry dish. Served at The Boardwalk restaurant, Messager secures Ballina prawns from a local fisherman who will only be named as Michael.
"It's always consistent, beautiful fresh product," says Messager. "We have been dealing with Michael for a very long time."
While the prawns are from local waters, the herbs in the dish are Pocket Herbs from Murwillumbah.
"We love the freshness of these herbs," he says. "Our patrons love their comfort food," says Messager. "We love this dish as it's wintery, wholesome and delicious."
Messager was first introduced to Moran via the then Aria head chef in 2009. It was there that he learned to showcase local produce.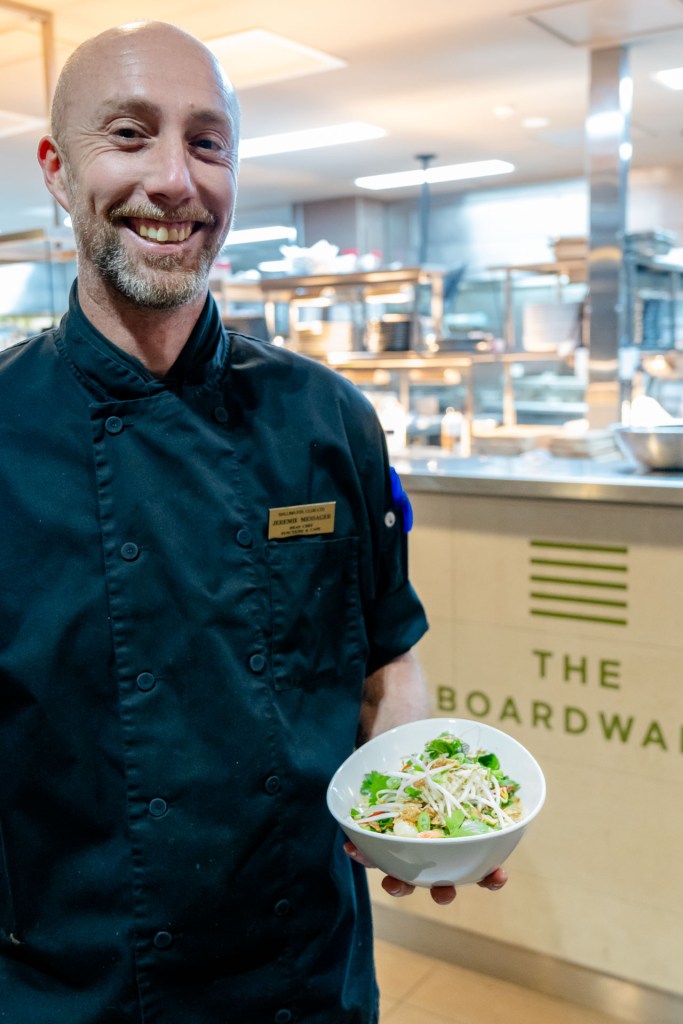 "At Aria, I had a chance to work with exceptional products. It was a great introduction to learn about Australian produce, food trends and culture," says the English-born chef.
"I decided to join the Ballina RSL Club as I live in the area," he adds. "There are opportunities to develop my career and I love the work-life balance that the club industry offers me."
Moran has already hit Parramatta Leagues Club for the launch of Perfect Plate where executive chef Helmut Gundendorfer and his team have put up grilled lamb rump and fish tacos. The chef then hit Randwick Golf Club for its Lamb Three Ways and Coogee Legion Club for grilled Barramundi in Thai Coconut Tom Yum Sauce with peanuts, crispy sweet potato, rice & lime and Hot Grilled Seafood.
Chef Moran is now heading to six clubs, in Broken Hill and Merimbula, for Perfect Plate. Fellow ambassador Courtney Roulston is also on tour.
The dishes are among 160 up for the Perfect Plate awards, with clubs encouraged to get members to vote before polling closes on 9 July.
The top 13 clubs will be named as winners in their region. There will also be three state-wide winners announced in the small, medium and large club categories at The Perfect Plate Awards Night at Norths in Cammeray on 1 August.