Several sporting clubs across Sydney and Melbourne have announced the appointment of new builders to restart site work following the collapse of major construction firm, Lloyd Group, in April. Numerous council- and club-funded construction projects were hit by the collapse of the six Lloyd Group of companies after Deloitte Turnaround & Restructuring was appointed voluntary administrator.
In Sydney, Tamarama SLSC's $4.56 million upgrade is back on track after the surf club appointed Schiavello as the new managing contractor to take over the clubhouse renovation project.
"Schiavello put together a very thorough submission demonstrating a clear understanding of the challenges ahead and a very good appreciation of the significance of the project," Tamarama Surf Life Saving Club President Matteo Salval announced. "Schiavello is also a leader in the construction industry for inclusivity and LGBTQA+ participation through Building Pride just as we are leaders in our field."
Schiavello will now inspect the site in Sydney's east to carry out an initial clean and to further assess any urgent repair work given the site has been untouched since April. Waverley Council, Schiavello and the club are now adjusting the building program with the aim of completing the half-finished project this summer.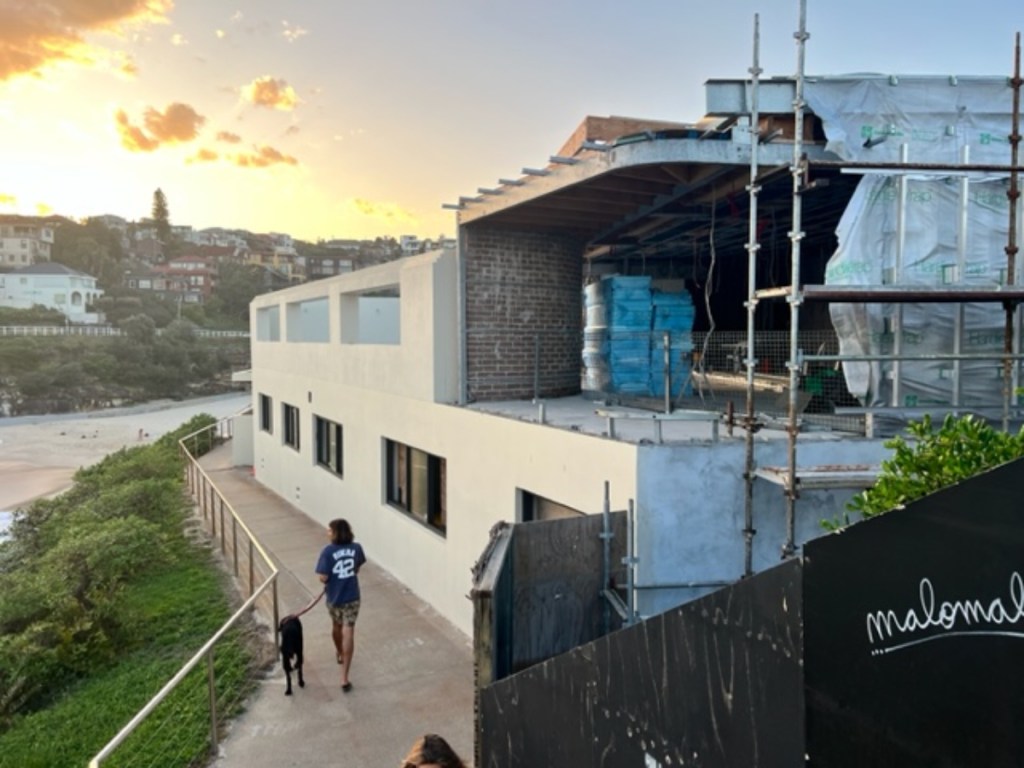 Lloyd Group was also working on the redevelopment of Allan Border Oval Pavilion at Mosman on the Lower North Shore. Work restarted in late June after Mosman Council entered into a contract with Reitsma Constructions to finish the remaining works including roofing, glazing, internal fit-out and landscaping. Mosman Cricket Club faces a third consecutive season without a clubhouse as the new pavilion is not due for completion until the first quarter of 2024.
In Melbourne, Bayside City Council has announced that construction at Brighton Life Saving Club's Dendy Beach Pavilion and the Tulip Street Basketball Stadium extension have restarted with two new firms. Council has contracted new builders for the projects – FOURSQ for Dendy Street Beach Pavilion and 2|MORO Group for the Tulip Street Basketball Stadium extension. Bayside Mayor, Cr Hanna El Mouallem said he was delighted that building was underway again.
"This is very welcome news, particularly for our life savers and basketballers. I am confident these two new building firms will complete the construction of these important and long-awaited buildings for our active community," Cr El Mouallem said.
"Thank you to our community for your patience while we worked through the retendering of the two contracts, in particular Brighton Life Saving Club, Sandringham Basketball Association and the building tenants," he said.
Frankston City Council also had four Lloyd Group projects in development including the $35m Jubilee Park Stadium. The now-delayed project, jointly-funded by Council, State and Federal Governments and local sports clubs was set to benefit resident clubs, Frankston District Netball Association, Peninsula Waves, Frankston Peninsula Premier Cricket Club and Frankston YCW Football Netball Club. Club Management has contacted council for comment.