Australia's bowling fraternity has gathered together to celebrate Bowls Australia's 2022 Hall of Fame and Awards Night at Crowne Plaza, Surfers Paradise, following two years of virtual events.
This prestigious event was a celebration of a great year in bowls and a chance to recognise and celebrate the outstanding performers of 2021 and 2022, and the sport's greatest achievers. The last event was held in 2019.
The night also paid recognition to a plethora of players, officials and clubs for their success throughout the 2021/22 calendar across 12 categories, as well as additions to the BA Hall of Fame and elevations to legend status.
Bowls Australia's CEO Neil Dalrymple said Surfers Paradise was the perfect backdrop to the sport's night of nights.
"The Gold Coast is a heartland for the sport of bowls and was an ideal setting to showcase the achievements of both the sport's grassroots and high-performance elite at the Hall of Fame and Awards Night, where many Queenslanders' contributions were recognised," he said.
Bowls Australia Hall of Fame inductees included Marion Stevens, Dennis Dalton, Herbert (Bert) Sharp, Albert (Bert) Palm and Ronald (Ron) Tuckerman.
The recipients of the Elevation to Legend Status were Karen Murphy AM, Steve Glasson OAM and Rob Parrella OAM.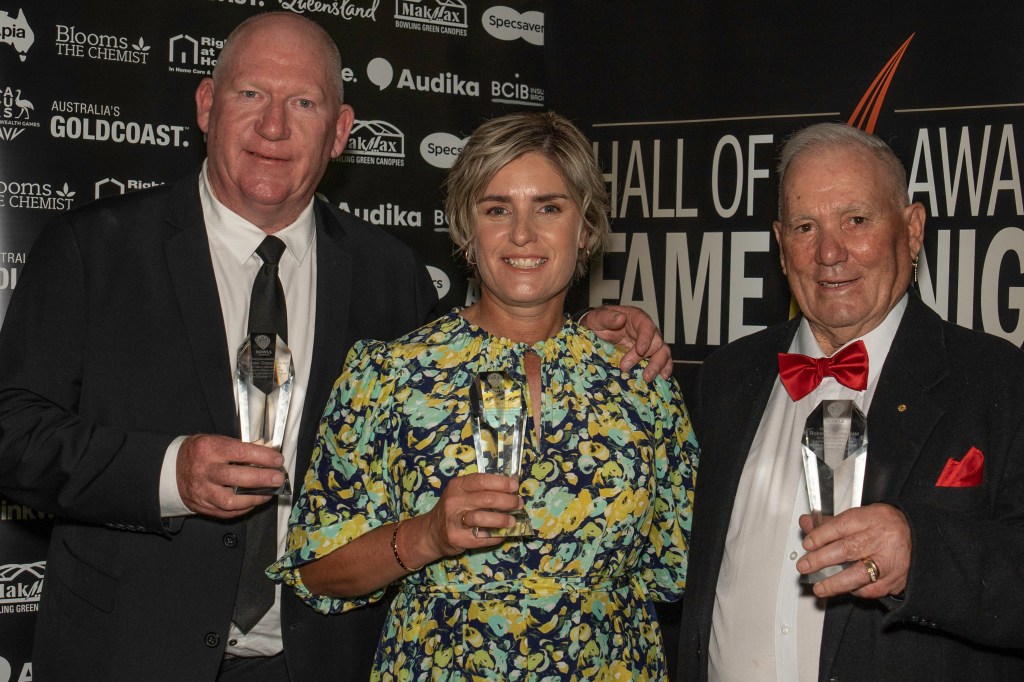 The 2022 Awards Night Honour Roll included:
Community Service Award
Chirnside Park Bowls Club (Chirnside Park, Vic)
Right at Home Volunteer of the Year:
Eric Sydenham (Narre Warren, Vic)
Blooms the Chemist Official of the Year:
Ann Walsh (Mornington Peninsula, Vic)
Apia Coach of the Year:
John Rodis (West Dubbo, NSW)
DrinkWise Club of the Year:
Club Merrylands (NSW)
BCiB Bowler with a Disability of the Year:
Serena Bonnell (Broadbeach, Qld)
MakMax Under-18 Female Bowler of the Year:
Taylor de Greenlaw (Cabramatta, NSW)
Specsavers Under-18 Male Bowler of the Year:
Jack McShane (Club Merrylands, NSW)
Tourism and Events Queensland Male Bowler of the Year:
Nick Cahill (Broadbeach, Qld)
Major Events Gold Coast Female Bowler of the Year:
Kelsey Cottrell (Broadbeach, NSW)
Commonwealth Games Australia International Female Bowler of the Year:
Lynsey Clarke (Club Tweed, Qld)
Sport Australia International Male Bowler of the Year:
Aaron Wilson (Cabramatta, NSW)
A full list of winners and pictures of the night will appear in the Summer issue of Club Management. Subscribe now.
Vale Margaret Sumner OAM
Bowls Australia has remembered Hall of Fame member Margaret Sumner OAM following her recent passing.
Sumner was part of the first group of inductees into the Bowls Australia Hall of Fame in 2011 and had an impressive resume including a world championship gold in the fours in 1996 at Royal Leamington Spa in England, and silver at the same competition in the triples.
She was also a Commonwealth Games medallist, winning silver at Kuala Lumpur, also in the fours. In 2009 she was recognised with a Medal of the Order of Australia for service to lawn bowls through administrative and representative roles.