The club industry continues to adapt to a changing landscape impacted by skills shortages, increasing competition, and post-COVID consumer expectations.
With long-term planning back on the agenda for many clubs, there is strong focus on existing services and facilities. Will they meet future requirements?
With more than 60 years' experience in the design and construction of hospitality venues, Paynter Dixon is the industry leader in delivering exceptional buildings for the entertainment sector.
According to Andrew Neagle, Hospitality Strategic Development Lead with Paynter Dixon, clubs are seeking solutions which embrace intelligent design.
"The shortage of staffing is prompting many clubs to revisit their floor plans, especially when their venue has multiple service areas and bars," says Andrew.
"The consolidation of service areas is one strategy that venues are exploring, but this also requires a clear understanding of how various spaces can be connected. Creating a logical flow through and around the venue is integral to the member and patron experience."
Centrally located bars
Andrew points to the benefits of large, central bars that can serve connected dining and lounge areas. "From an optics perspective, central or prominent bars are pivotal to the status of the venue, establishing the ambience and patron expectations."
In overseeing design and construction of the new Club Parramatta venue, Paynter Dixon paid attention to the positioning of bars within the multi-purpose three-storey building.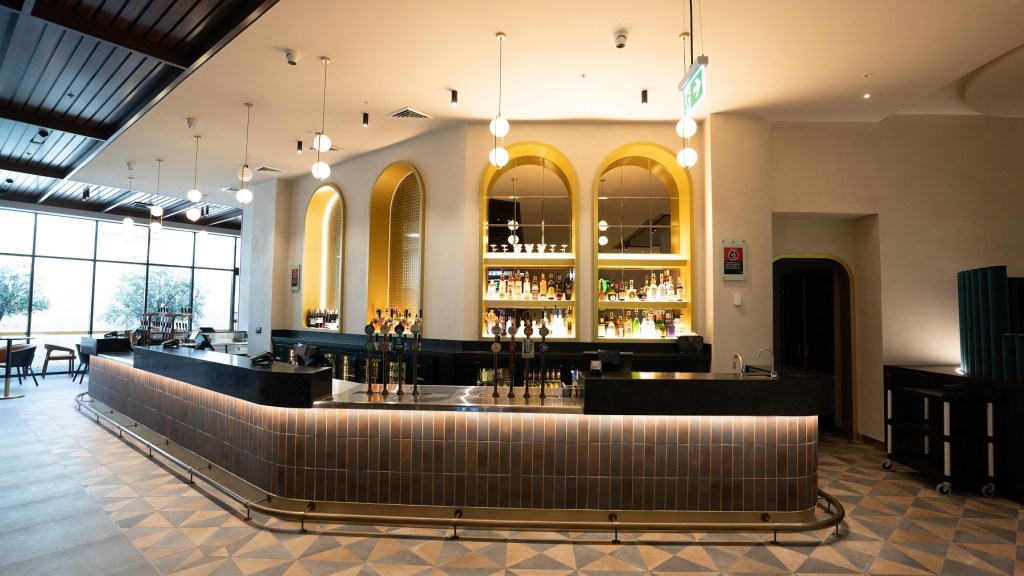 "Both the ground and first floor feature long, central bars which efficiently serve the greater area of connected indoor and outdoor areas."
A prominent bar is just one feature of the new Petersham RSL. Paynter Dixon was engaged by Deicorp to oversee construction of the 4,000 square metre ground floor venue while the property developer built residential towers above. The new RSL features restaurants, indoor and outdoor gaming lounges, and day spa.
The main bar is adjacent to a glazed skylight courtyard which features a three-tonne metal feature screen and artificial olive trees. The use of premium and imported finishes complete the impression, from hand-pressed mosaic tiles, through to velvet and suede furniture, and the marble foyer.
Optimising outdoor areas
Outdoor dining remains a priority for the hospitality industry at large – with NSW Government recently extending the Alfresco Restart Package for another 18 months. For clubs, Andrew believes the greater challenge involves optimising the outdoor environment for all service capability.
"More venues are looking to push the boundaries of outdoor gaming, dining and lounge areas. Success comes down to looking critically at the layout and factoring in all considerations from the outset – regulatory compliance, safety, comfort and social distancing, and the overall customer experience."
Effective partnering
Paynter Dixon is renowned for having a hospitality team with extensive knowledge in design, architecture, engineering, property master planning and interior fit out.  
"Our industry experts work smart to deliver outdoor areas that exceed design expectations, are fit for purpose, follow Covid safe guidelines, and meet the budget and time restraints."
To learn more, contact Andrew Neagle: andrew.neagle@paynterdixon.com.au.