Content by ResDiary. Download ResDiary's 2023 Inflation Guide for Hospitality here.
Inflation is having a significant impact on Australian life. With rates rising to the highest levels in three decades, it's unsurprising that hospitality venues are feeling the effects of these difficult times.
Key Hospitality Industry Australia Statistics
The 2023 rise impacts the internal economic circumstances of restaurants, cafés and other hospitality venues. The prices of food, rent and utilities have all been affected by inflation.
In addition, rising inflation and cost of living is having a profound impact on the spending habits of hospitality customers. Statistical analysis conducted on ResDiary booking system data from restaurants all over Australia has yielded some fascinating statistics:
Since January 2022, there has been a 28% decline in bookings at fine dining restaurants (defined as restaurants with an average of <$80 spent per customer)
Between May and October 2022, there was an 88% increase in customer cancellations in fine-dining restaurants
Between February 2022 and February 2023, there has been an observable decrease in customer bookings among all restaurants, with average spending of $40 or more per customer.
This is an unsurprising truth: The economic hardship being experienced by consumers is being passed on to hospitality venues.
Why is inflation a concern for the hospitality industry?
The impacts of inflation on the hospitality industry are manyfold. It's essential for hospitality business owners to have a strong understanding of its effects across all aspects of their venues.
Food inflation
Per the Australian Bureau of Statistics consumer price index analysis, the average price of food and non-alcoholic beverages rose by 9.2% from December 2021 to December 2022 in Australia's 8 capital cities. This is a dramatic increase that has had a significant impact on the hospitality industry.
Wholesalers have charged venues more for food products and drinks, increasing the initial expenditure of businesses. In order to maintain their profit margin, businesses have been forced to hike up menu pricing. Consumers will then opt for cheaper menu items with smaller profit margins, or may stop dining at a venue at all.
Increased supplier costs
Food and drinks aren't the only products that hospitality venues look to suppliers to purchase. Catering equipment, cleaning supplies, packaging, kitchen appliances, and furniture – hospitality venues need all of these products to survive, and increased supplier costs can cause severe pain.
Just as is the case with food inflation, higher prices for other hospitality expenses must be passed onto the consumer in the form of menu pricing to ensure businesses can survive. This has a serious impact on the spending habits of customers and can create a vicious cycle of reduced income.
Spending habits of customers
The rising cost of living means recreational consumer spending can fall by the wayside. Research conducted by NAB found that 4 in 10 Australians have made conscious adjustments to non-essential spending to combat the rising cost of living, including reducing meals eaten out of the home.
As customers look to eat out less, hospitality businesses struggle to fill seats and maintain profit margins. Once again, a harmful cycle is at work, as inflation forces businesses to raise prices while customers are increasingly thoughtful regarding their spending.
ResDiary Insights: How the inflation rate has affected the Australian hospitality industry
ResDiary has conducted an analysis of booking data from restaurants all over Australia over recent years. The findings offer insight into how inflation has impacted the hospitality industry, and how businesses can adapt to survive.
Price per head
In order to paint a complete picture of the hospitality industry, ResDiary's analysis has split venues into 5 categories based on the average spend per customer. The categories are: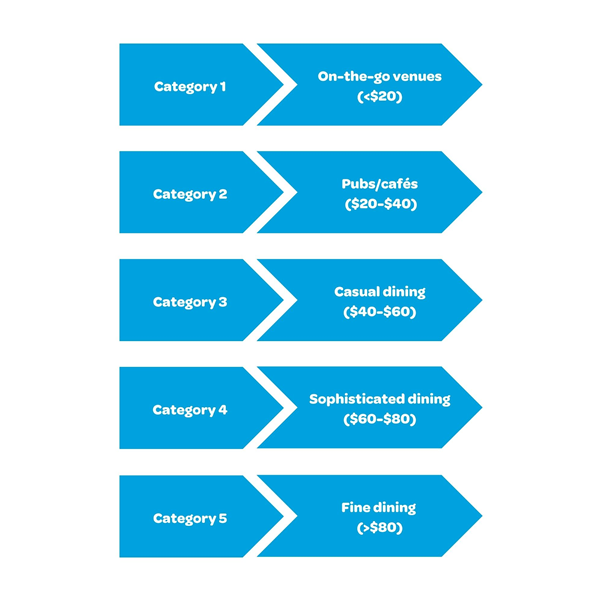 Booking cancellations are an excellent indicator of the economic activity of customers. In particular, cancelling a booking with a long lead time can show how changing economic circumstances impact diners' desire to eat out.
ResDiary's key findings with regard to cancellations are:
Fine dining restaurants experienced an 88% increase in cancellations between May and October 2022.
Sophisticated dining restaurants experienced a 13% increase in cancellations in that same time period.
Both casual dining venues and pubs/cafés experienced a decrease in cancellations in that same time period.
On-the-go venues saw an increase in cancellations of over 400% during the period between May and October 2022.
This data offers insight into how customer spending has affected different kinds of hospitality venues. Unsurprisingly, the restaurants hit the hardest by the reluctance of customers to dine out are higher-end venues, while more affordable options like pubs and cafés saw a decrease in cancellations.
To survive in difficult times, your business needs to fire on all cylinders. A great reservation and table management platform can be critical to increasing your turnover and keeping your customers happy.
ResDiary offers a range of services pertaining to online bookings, automated phone bookings, event management, promotional campaigns and online payment acceptance. Streamlining these functions will help your business thrive in the short and long term.
Book a free demo today to see what ResDiary can do for you.