Gravy is an Aussie favourite and therefore it's a must have for commercial kitchens, across the country, who want to find new ways to give customers what they crave.
The trick for chefs is to choose the gravy that is perfect for every dish.
MAGGI makes the perfect gravy
The MAGGI gravy range gives you all the gravy you need, to elevate any plate. And because some of the range is gluten free, you can cater to even more diners than ever before. Here's a look at the range:
MAGGI Rich Gravy Mix
This signature beef-style gravy can be prepared in just five minutes, saving you time during busy services. This gravy pairs brilliantly with roast dishes, pies, grilled meats, chips, and mash.
MAGGI Gluten-Free Instant Rich Gravy Mix
This gluten free, rich beef gravy can be prepared in an instant. It's a great time-saver in kitchens, that don't have stove top facilities. It pairs beautifully with grilled meats and roasts.
MAGGI Supreme Gravy Mix
This vegan and gluten free gravy, has a full-bodied umami flavour and is a delicious accompaniment to grilled meats and roast dishes.
MAGGI Gluten-Free Chicken Gravy Mix
This gluten free gravy helps enhance the natural flavour of chicken. Made with real chicken, this gravy mix can be paired with any chicken item on your menu.
MAGGI Golden Roast Gravy Mix
This light gluten-free gravy has been created especially for white meats. It's a stunning savoury addition to the chicken or turkey dishes on your menu.
MAGGI makes special occasions easier
Special occasions give chefs an opportunity to give diners dishes they'll really remember and keep coming back for. And gravy, will play a big part in achieving this.
Here are some ideas for some extra special dishes that also make your life easier: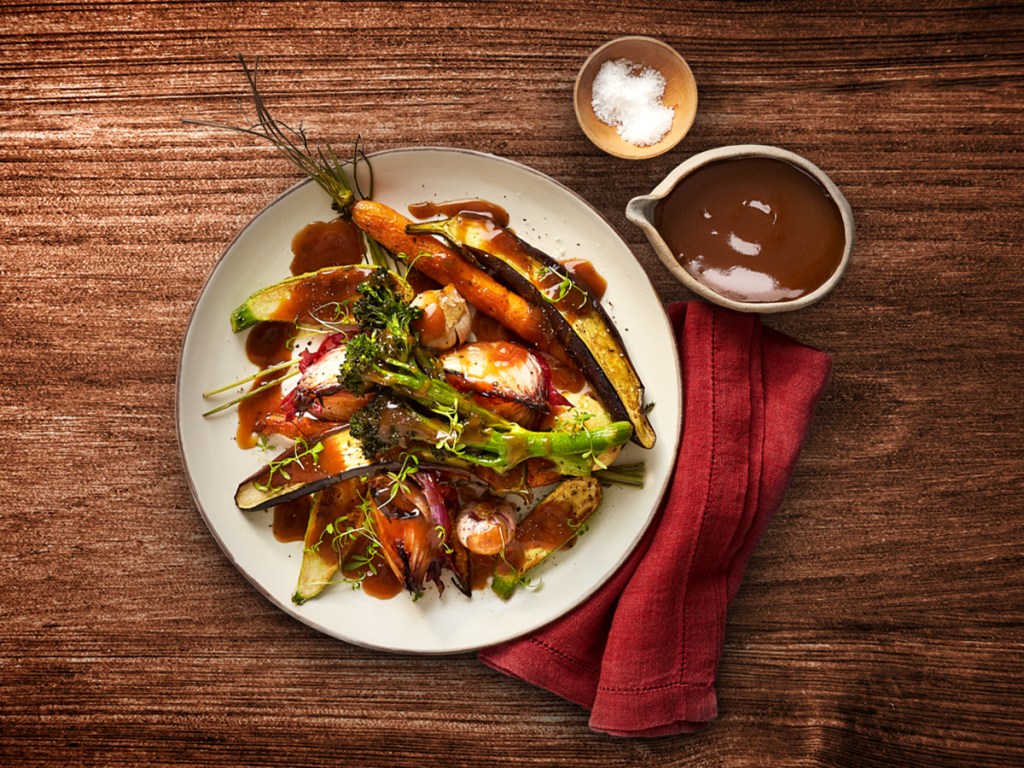 1. Roast Veggies with Golden Roast Gravy
Create this simple roast veggies recipe with MAGGI Golden Roast Gravy Mix and give your diners something extra special. You can also add a touch of vegetable concentrate to add a depth of flavour.
2. Chicken Schnitzel and Chicken Gravy
Treat your customers to this recipe for chicken schnitzel featuring MAGGU Gluten Free Chicken Gravy Mix. Serve it with chips or mash, to complete the dish.
3. Vegetarian Pepper Sauce
Make roast vegetables they won't be able to resist with this vegetarian pepper sauce, with MAGGI Supreme Gluten Free Gravy. The fermented pepper adds an extra layer of flavour.
4. Cranberry Gravy Sauce
Mix cranberry jelly with a gluten free gravy, to create this delicious gravy and cranberry sauce. It's an easy way to add some extra tang to roast dishes.
5. Red Wine Gravy Sauce
It's hard to beat red wine gravy paired with a steak. This simple red wine and port sauce recipe used the delicious MAGGI Rich Gravy as a base.
6. Gravy Grain Mustard and Herb Sauce
This simple and tasty gravy grain mustard and herb sauce is made with MAGGI Golden Roast Gravy and is ideal for roasted red and white meats.
So, no matter which plate you want to elevate, MAGGI range will help you give your diners, the gravy they are looking for.